Small bore target shooting has been an Olympic sport for over 100 years.

In prone competition, competitors use special target rifles without telescopic lenses and as part of the rules must hold the rifle freehand while lying down (ie are not allowed to rest the rifle on an external support such as a bench). Shooting jackets and slings are allowed. The target size is proportional to the range length, ie 20m targets are much smaller than 50m targets and so on.







All shooting is against paper or electronic targets. Club members generally have their own rifles, with Anschutz, Feinwerkbau and Walther 22LR target rifles being popular. Ammunition must be standard velocity.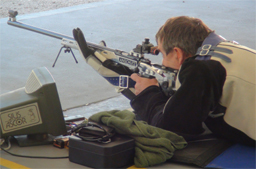 Club member Jordie competing at the 2013 TRV State Championships at the MISC range near the Westgate Bridge, Victoria

Some useful Youtube videos of the sport:


http://www.youtube.com/watch?v=3J0m7NQIjo0
http://www.youtube.com/watch?v=cRrCeDO6wJE