Congratulations Sandringham clubhouse on your 100th birthday 1915 - 2015

Sandringham Rifle Club has been part of the Sandringham community for over 110 years. On 16th June 1900 the newspaper The Argus noted that the members of the Sandringham Rifle Club had constructed a "temporary target in Mr Abbott's paddock".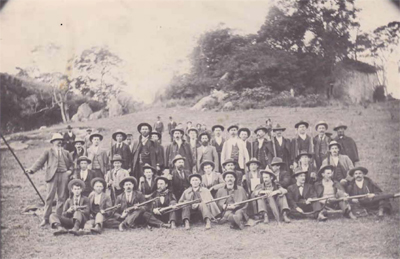 George Kean, a founding member of the club (identified by his granddaughter Anne as the person standing at the third row from the front, 4th from the left) won the Sandringham Rifle Club's Morris Range Competition in 1900 for which he received the silver medal below. This medal was recently reunited with the family after being located at an auction house in the UK.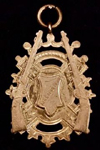 The current clubhouse, still next to Abbott Street, cost 100 pounds to build and was officially opened by the Commonwealth Minister of Defence, Senator Pearce, on the 18th September 1915 who referred to the ongoing struggle in Gallipoli in his opening speech.

Since that time the club has been an active competitor in Victorian small bore target rifle events and has won pennants in events since at least 1919.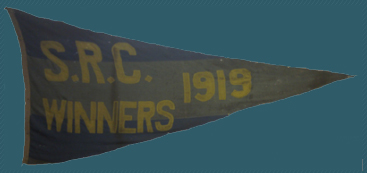 Today the club focuses exclusively on small bore (22LR standard velocity) prone target competition under the governing body Target Rifle Victoria.

In 1994 club member Sylvia Purdie won gold in the prone small bore rifle event at the Commonwealth Games in Victoria, Canada.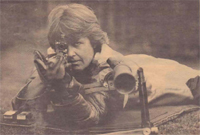 Recent results include:
second in 2015 TRV 20m Section B prone pennant (Sandringham A team)
first in 2015 TRV 20m Section E prone pennant (Sandringham B team)
third in 2015 TRV 50m Section C prone pennant
third in 2014 TRV State Championships 50m prone D grade
first in the 2013 TRV 20m Section C prone pennant
first in 2013 TRV State Championships 50m prone C grade
first in 2013 TRV State Championships 50m prone D grade
second in the 2012 TRV 20m Section C prone pennant
first in the 2011 TRV 50m Section D prone pennant
second in the 2011 TRV 20m Section C prone pennant